MonaLisa Touch™
Bringing Science to Beauty & Health
< Return to all services
Dr. Karny Jacoby has been treating women since 2014 with the innovative MonaLisa Touch™ laser for improving vaginal health and relieving the symptoms of menopause - vaginal dryness and dyspareunia (painful sex).
The MonaLisa Touch™laser is a treatment the symptoms of menopause, painful sex or dyspareunia, and vulvovaginal atrophy (vaginal dryness). Symptoms may include vaginal dryness, itching, burning and painful intercourse which is medically referred to as Genitourinary Syndrome of Menopause (GSM). The fractionated CO2 vaginal laser treatment is much like your annual exam. The MonaLisa Touch™ is an in-office procedure, that takes less then 5 minutes, requires no anesthesia, with minimal discomfort and is hormone free (No HRT). The MonaLisa Touch™treats the underlying causes not just the symptoms themselves. The purpose of the vaginal laser is to stimulate collagen growth and blood flow improving the mucosa on the vaginal walls to promote vaginal rehydration and functionality of the treated area.
What is menopause?
Menopause is a natural life-changing event for women defined as the end of menstruation or more specifically, an entire year without menstruation. When menopause will occur is difficult to predict and varies greatly by individual. Most women experience menopause between the ages of 40 and 60 with the average age being 51. Menopause symptoms may occur during this transition. Some women experience medically, or surgically induced menopause, caused by either a hysterectomy, chemo, radiation or hormonal therapy which are common treatments for breast cancer.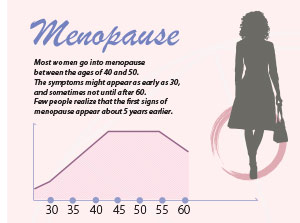 Is the MonaLisa Touch™the treatment options for you? To answer your questions and get detailed insight about the MonaLisa Touch you can download a FREE copy of our Patient Guide.
What are the symptoms of menopause?
The symptoms of menopause can be unpleasant and life changing. By the time a woman reaches 40 or 50 she experiences a decrease in estrogen which can affect tissues including the vagina, vulva, uterus, breasts, bones, brain, skin, hair, heart, blood vessels, bladder, urethra and mucous membranes. Menopause symptoms include:
hot flashes
night sweats
mood swings/irritability
memory or concentration problems
vaginal dryness or vaginal atrophy
itching and burning
heavy bleeding
depression
hair changes
headaches
heart palpitations
sexual disinterest
urinary changes
weight gain
dyspareunia (painful intercourse)
Vaginal atrophy (GSM), one of the most common conditions resulting from menopause and breast cancer survival, can now be treated with the MonaLisa Touch™ fractional C02 vaginal laser, improving comfort and life changing symptoms including vaginal dryness and painful intercourse (dyspareunia). Individual results may vary.
What is vulvovaginal atrophy, Genitourinary Syndrome of Menopause (GSM)?
The cause of vaginal atrophy and dyspareunia is a decline in estrogen. Without estrogen, mucosal elasticity is lost and the vaginal tissue dries out becoming fragile and susceptible to injury. The patient can experience urinary incontinence, dyspareunia (painful intercourse), dryness, itchiness, burning, prolapse and laxity or looseness will occur.
Menopause symptoms are often ignored due to sensitivity and lack of non-invasive treatment. Now patients easily and conveniently are treated in their physician's office in just a few minutes of application. With the gentle action the MonaLisa Touch™ has on vaginal walls, the procedure is well tolerated by the vulva and with no risk to the surrounding tissue and organs. The MonaLisa Touch™ vaginal laser has been clinically tested and found to be effective with most treated patients claiming substantial relief from menopause symptoms, vaginal dryness and dyspareunia. Patient's claim the MonaLisa Touch improved hydration and comfort during intimacy. As women continue to age symptoms gradually return. An annual touch up is recommended to maintain results. Individual results may vary.
What causes decreases in estrogen?
Vaginal atrophy or vaginal dryness is caused by a decline in estrogen, which can occur:
During breast feeding
After the removal of ovaries (surgical menopause)
After chemotherapy for cancer
Following pelvic radiation for cancer
After hormonal therapy for breast cancer
Medications indicated for hormone receptive breast cancer
Menopause (most common)
What are the treatments available for vaginal dryness and dyspareunia?
HRT, Hormone Replacement Therapy, can relieve the symptoms of vaginal dryness and dyspareunia by boosting the estrogen levels enough to suppress symptoms. Short-term use of HRT carries little risk; however, studies have shown that long-term use (over 5 years) of HRT's may increase a women's risk of breast cancer. Some alternatives to HRT include the use of vaginal lubricants, birth control pills, testosterone, herbs, exercise, and acupuncture.
Alternatively, the MonaLisa Touch™ laser has been FDA approved as a safe an effective treatment for relieving symptoms. This is a hormone free alternative for women who have been treated with chemotherapy, radiation and/or hormonal therapy for breast cancer. The MonaLisa Touch™ has shown improvements greater than traditional HRT, Hormone Replacement Therapy. As with any anti-aging treatment, individual results may vary.
How does the MonaLisa TouchTM work?
Treatment with the MonaLisa Touch™ vaginal laser is non-invasive and requires no anesthesia. With the gentle action that the laser has on vaginal walls, patients can now be treated on an in-patient basis with a qualified provider. A vaginal probe is inserted into the vagina delivering thermal heat to the deep layers of skin of the vaginal wall. This increases blood flow and stimulates collagen growth which improves moisture and hydration without the use of lubricants and hormones. Patients can return to normal activity following a treatment session.
Noticeable results occur after only 1 session but to be fully effective a series of 3 sessions are necessary. Some patients may require 4-5 treatments depending on the severity of their condition. Each treatment session is less than 5 minutes, scheduled 6 weeks apart. Maintenance includes an annual MonaLisa Touch UP. As the aging process continues symptoms will gradually return. An annual touch UP will protect your initial investment by avoiding repeating all 3 treatments.
Individual results may vary.
Who is the MonaLisa Touch™ laser treatment for?
Candidates for the MonaLisa Touch™ vaginal laser treatment include the following:
women who wish to avoid the risks associated with hormone replacement therapy (HRT)
GSM or vaginal atrophy, vaginal dryness – usually menopausal
dyspareunia (painful intercourse)
a history of breast cancer, thrombophlebitis, or other contraindications to estrogen
poor responders to estrogen treatment
patients with the goal of returning to premenopausal health
There are very few contraindications for the MonaLisa Touch™. Laser treatment is not recommended for the following:
women who have active infections (candidiasis, Herpes Genitalis, etc.)
undiagnosed vaginal or cervical lesions
pregnancy or the 3 months following pregnancy
a history of radiation to the vaginal or colo-rectal tissue
patients who have had reconstructive pelvic surgery with "mesh kits"
Caution is currently recommended for women with a history of "TVT" type sling for incontinence. However, it this is not a contraindication.
What indications or symptoms can the MonaLisa TouchTM treat?
painful sex (Dyspareunia)
vaginal dryness and discomfort
burning and vaginal itching
weakness and laxity
stress or Mild Urinary Incontinence
How much does treatment with the MonaLisa TouchTM vaginal laser cost?
At WA Urology we offer a package rate for 3 treatments or patients can elect to pay for individual treatments. The MonaLisa TouchTM can cost anywhere from $900 per treatment to $1,200 per treatment depending on location. Our rate is $2,700 for 3 treatments or $1,000 each. Check out our blog post "How much does the MonaLisa Touch Cost and other FAQ's".

Can the MonaLisa Touch Laser be Used to Treat Lichen Sclerosus?
Lichen Sclerosus is an autoimmune disease with unknown cause. It presents in females 7 years old to 60 as white patches on the skin around the vulva resulting in vaginal itching contributing to dyspareunia. Lichen Sclerosus is NOT contagious. Although the exact cause of Lichen Sclerosus is unknown risk factors may include:
Genetics
Autoimmunity
Infection
Hormones
Skin changes
Recently, Dr. Karny Jacoby began treating women with Lichen Sclerosus, a vulvar autoimmune disorder. The only current effective mode of treatment is daily vulvar steroid creams. Flare-ups can be devastating for women. There is early evidence that MonaLisa Touch vaginal laser therapy used externally on the vulvar tissue can improve and relieve symptoms. Patients should expect to need 5 or more sessions to see results, but may experience some improvements as early as the third treatment. Just as with any chronic condition, regular laser treatments will be necessary to manage symptoms. Individual results may vary.
MonaLisa Touch for the Vulvor Atrophy and Lichen Sclerosus, Deka Abstract, 2013.
Pre-Treatment Instructions MonaLisa TouchTM:
Refrain from intercourse 24 hours prior to your treatment.

Avoid the use of vaginal lubricants or creams 48 hours prior to treatment.
Post-Treatment Instructions MonaLisa TouchTM:
Many patients refrain from sexual activity for 48 hours following treatment.

Most patients resume normal activity as tolerated immediately after the procedure.
Integrity Medical Aesthetics was the first clinic in the Pacific Northwest with the MonaLisa Touch™ vaginal laser. The first treatment was performed in February 2015. Since then Dr. Jacoby has done over 400 MonaLisa Touch treatments.
Schedule your consultation today with Dr. Karny Jacoby by calling (425)454-8016.
*PUBLICATIONS - MonaLisa TouchTM
Histological study on the effects of microablative fractional CO2 laser on atrophic vaginal tissue: an ex vivo study. S. Salvatore et al.Menopause 2015 Jan 20. doi: 10.1097/GME.0000000000000401. [Epub ahead of print]
Vulvo-vaginal atrophy: A new treatment modality using thermo-ablative fractional CO2 laser. A. Perino et al. Maturitas. 2015 Mar; 80(3):296-301. doi: 10.1016/j.maturitas.2014.12.006. Epub 2014 Dec 25
Sexual function after fractional microablative CO2 laser in women with vulvovaginal atrophy. S. Salvatore et al. Climacteric 2014 Dec 16. doi:10.3109/13697137.2014.975197 [Epub ahead of print]
Microscopic and ultrastructural modifications of postmenopausal atrophic vaginal mucosa after fractional carbon dioxide laser treatment. N. Zerbinati et al. Lasers Med Sci 2015 Jan, Vol. 30, No. 1:429-36. doi: 10.1007/s10103-014-1677-2. Epub 2014 Nov 20.
Microablative fractional CO2 laser improves dyspareunia related to vulvovaginal atrophy: a pilot study. S. Salvatore et al. Journal of Endometriosis and Pelvic Pain Disorders 2014. DOI:10.5301/je.5000184. Epub 2014 Jun 20.
A 12-week treatment with fractional CO2 laser for vulvovaginal atrophy: a pilot study. S. Salvatore et al. Climacteric Aug 2014, Vol. 17, No. 4:363-369. doi: 10.3109/13697137.2014.899347. Epub 2014 Jun 5.
For more information you can visit www.monalisatouch.com.
I look at the MonaLisa Touch as an investment in my well-being. This treatment allows you to have that sense of well being, it doesn't cause cancer and is well worth the expense. An investment in your body that solves intimacy issues is totally worth the expense.
Kris, MonaLisa Touch Patient - Oak Harbor, WA